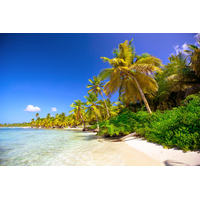 Title: "Director Olsen Announces Return of Volunteers, Commemorates 'founding moment'"
Author: PC HQ Staff
Source: Peace Corps News
Published: Oct 14th, 2020
Brief: On the anniversary of JFK's famous campaign-trail speech, Director Olsen announces PCVs to return to Caribbean in January 2021.
From the article:
"WASHINGTON – Peace Corps Director Jody K. Olsen announced volunteers will begin returning to service in January.

Speaking to staff today during a town hall meeting launching the agency's yearlong 60th anniversary celebration, Director Olsen said public health conditions permit the return of volunteers to the Eastern Caribbean.

The agency suspended global operations in March in response to the COVID-19 pandemic.

"I am thrilled to share this good news as we commemorate our founding moment, when then candidate John F. Kennedy planted the seed for what would become the Peace Corps during an early morning speech October 14, 1960 at the University of Michigan," said Director Olsen. "Our decision to return to the field follows months of extensive preparations and review, and I am extremely grateful to the many staff and host country partners who contributed to this effort. I also salute the evacuated volunteers who are joining us as we take these first steps to resume operations and begin the celebration of our 60th anniversary."

President Kennedy formally created the Peace Corps by executive order on March 1, 1961.

At the time of the evacuations in March, nearly 7,000 volunteers were serving in 60 countries. Since that time, the Peace Corps has worked tirelessly to develop a comprehensive process to safely return volunteers, including evaluating each post based on medical, security, programmatic, administrative and logistical criteria.

Staff from each post worked closely with the Peace Corps medical and safety and security experts to develop COVID-19 emergency response plans. Returning volunteers will be tested for COVID-19, quarantine for 14 days after arrival in their host country and receive training to safeguard against exposure to the virus during their service."
---