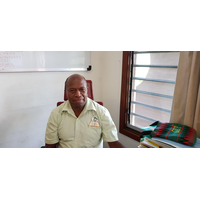 Source: The Daily Post
Published: February 29th, 2020
Brief: Mr. Toa talks about his connection with Peace Corps Vanuatu and his experience of hosting a volunteer.
From the article:
"Mr. Hambert Toa, was a former teacher and principal at Saint Patrick School on Ambae. Due to the volcanic unrest on the island, he was transferred to the Ministry of Education and Training in Port Vila and is currently the Basic School Coordinator at the Ministry. Here is his story of his encounter with Peace Corps.

Mr. Toa's first encounter with Peace Corps was in 2014 when they received a Peace Corps volunteer by the name of Tim Ward to their school. Tim taught Computer Studies to the senior students at Saint Patrick.

At the time, the school board had agreed that Tim would be hosted by one of the school teachers inside the school premises instead of him being hosted by a member of the community. In this way, Tim would be under the care and supervision of the school. After much discussion, Mr. Toa offered to be Tim's host parent.

It was then that the goals of the Peace Corps mission became clearer to Mr. Toa. He recalled accompanying Tim to a week-long training on Santo, as his host Papa and counterpart, and his understanding grew brighter about the different services the Peace Corps program offers to a school and/or community."
Click Here for Full Article
---