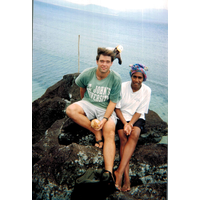 Summary: Dr. Mere Tari Sovick sits down and interviews her husband who she met when he was a PCV.
Author: Dr. Mere Tari Sovick
To commemorate the 60th year of the Peace Corps, I have decided to sit down and storian with someone who served as a Peace Corps volunteer (95-98) in the 90's in Vanuatu. This person also happens to be my husband, Mr. Jason Sovick. As one of the board members of Friends of Vanuatu, I am honored to share with you our story through audio.
In this one hour long storian, you will hear about Mr. Sovick's thoughts on why he wanted to serve as a Peace Corps volunteer, and what his experience was like, especially as a white male in the intersectional challenge of conventional race, gender, and identity. I shared a little about my experience of reverse culture shock as a Ni-Vanuatu woman entering the U.S for the first time, and how we chose to raise our children within a cross cultural focus because of our experiences and background.
---