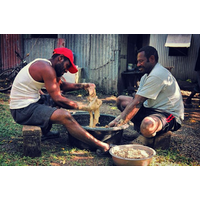 Summary: Sharon Hsu reflects on 60 years of Service and the impact it has had on her.
Author: Sharon Hsu
When I joined the Peace Corps, no amount of foresight could have prepared me for the world. I had no clue that for two years I would be walking across three families' yards just to use the outhouse and be asked by seven different people where I was going on the way. I had no clue that the only chair I would own was an upside down bucket or that I would sometimes (ok, make that often) pee in an empty peanut butter jar. Or how much "soft mud" I would drink. Or how many flashlights I would lose to that pit toilet. Or that I would eventually pull a worm out of my butt.

But life has its magic. And I also had no clue how much I would learn - about patience; about love; about the magic of laughter; about culture; and mostly, about unconditional kindness. Not of a person, but of a people and an entire country. And I am forever indebted, because I took away so much more than I could give.
Happy 60th birthday to the #peacecorps

To all those who served or will serve, and to the most vibrant and beautiful people I know: a photo of Ruben and Lol (local language for uncle) Jacob working the evening's kava. Fitting, because only a few know how much of those two years was really dedicated to this dirty water. A moment: a memory distilled into a photo, forever etched into my thoughts.
#PeaceCorpsWeek
---