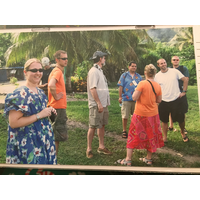 Summary: Teresa reflects on her Peace Corps Service.
Author: Teresa Oberti
When Aaron, our communications director, reached out to the board about creating blog posts for Peace Corps' 60 th anniversary I wasn't sure what I would write about. It's been over a decade since I served in the Peace Corps and when I was a volunteer in 2006/2007 there were no smart phones and Wi-Fi wasn't readily available so there's not much of a digital or social media trail I can run down to help jog my memory. I wanted to write something profound, or maybe enlightening, or at the very least good in order to meet the expectations of a 60 th anniversary.
Before joining the Peace Corps I only had far off fantasies of what the Peace Corps really was. Ideas that were probably concocted from TV and movies (ok most definitely were). I wasn't one of those people who did extensive research before making the decision to join. I didn't have close family or friends who had served and told tales of their PC life. I just wanted to do it, so I applied and that was it, I took a leap of faith.
I was lucky because there was a recruiter who would come to my college campus a few times a month. I was able to meet with him before applying and the truth is, the only reason why I met with him was because I thought he was cute… don't judge me, I'm just being honest. I can't believe I decided I would move anywhere in the world because some guy was cute! Wow, to be 22 again… Don't get me wrong, I do have an agriculture degree, so I had the qualifications to be a volunteer, but maybe my priorities were a little off.
Fast forward to March or maybe April 2006 and I was on a plane to Vanuatu. I had my struggles during service like so many others. Being isolated is hard but I learned to love reading and to be alone with my own thoughts. I missed American food the most and dreamt of caramel lattes and grocery stores with too many food options. I missed a few big life events with my family and friends, but I was there is spirit and got to read all about it in letters stuffed into care packages. Unfortunately, I didn't have a successful project or work assignment and I still have trouble feeling like my service was complete because of that but I remind myself that change doesn't happen in a few short years.
I recently read through a few old emails I sent early on in my service. There aren't too many since I didn't have access to the internet or a computer so the few I was able to find was a nice stroll down memory lane. Reading them felt like it all just happened a day ago but at the same time like an eternity. I honestly don't recognize that person from my emails. Not in a bad way but in a "it's been a decade" way. It's this, "wow, look at how much I've grown and changed and learned since that time".
I think my biggest takeaway from my Peace Corps service is that it's this job that is only a blip on the life radar, a few years out of hopefully 100, but it had a profound impact on my life. Not only do I feel like I have been added to a special family, the RPCV Vanuatu family, one that keeps growing as the years move on, but I have also made life decisions because of that experience. I continue to work in international development because Peace Corps introduced me to that world. I met my life partner there and through that partnership he continues to connect me to Vanuatu. We speak Bislama daily, though it has evolved into more of a Bis-English than true Bislama. We cook aelan kakae weekly. And we raise our family with the hopes of returning permanently to our home-away-from-home, our island paradise, Vanuatu.
---