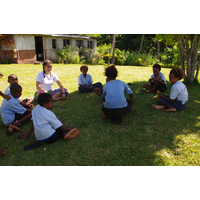 Summary: Join Gaea as she reflects on her time serving in Vanuatu.
Author: Gaea Dill-D'Ascoli
Peace Corps Volunteers are often treated as experts. For the most part, we aren't. I arrived in Vanuatu as a 25 year-old with a penchant for talking about sex, a love of languages, and a wild sense of adventure. None of that made me an expert. I wasn't then, and I'm still not now, an expert in anything.
Because of the perception of expertise, it is easy to view Peace Corps as a one-sided exchange. "Here is the educated American, coming to provide information to the uneducated host country nationals!" This is not at all how it is.
I knew the format of grant writing, but I didn't speak French so I couldn't apply for grants from the French Embassy. I co-wrote those grants with members of my community, all of whom spoke French, Bislama, Apma, and a smattering of English, Sa, and whatever else they'd picked up. (I never learned French, despite 2 years teaching at a French school.) I could talk about how toilets worked all day, but I had no idea how the water supply worked and if it would support more toilets. My community knew that it couldn't and chose to create improved pit toilets instead of the fancier flushing toilets. They were proved very right when the water stopped working 6 months into my service and I spent the next 18 months showering when it rained and hauling drinking water from the next village.
It was even more basic than that. For all my college education, I had no idea how to feed myself on the island. I was so bad at walking in the slippery silt-mud of Pentecost that at one point an 8 year-old escorted me home. By the time we reached my house, he had taken my basket and the pumpkin I was carrying and was still holding my hand so I didn't fall. It was a very dignified moment.
The more you put in, the more you get back. I got back a set of values that holds community and people in the highest regard. I got back hours of laughter and slices of fresh pineapple. I got back 2 new languages (but not French). In exchange, I left part of myself on a little chain of islands. Part of my heart is tucked among the coconut trees and buried in the silt-mud of Pentecost. A piece of me belongs forever in the photo room at the WanSmol Bag Youth Center and watching the dancers in the common area. I still dream in Bislama and try to buy sutsut instead of chayote.
When it is done well, Peace Corps is an exchange. It is a partnership among many people for the good of the individuals, community, countries, and world. I still think I got the most out of my exchange.
---