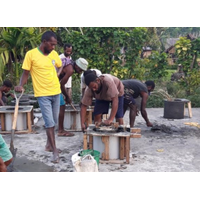 Source: The Daily Post
Published: October 12th, 2019
In Brief: Volunteer Eric worked with his community to complete 72 toilets.
From the Article:
The community of Vitimboso, Vanua Lava, TORBA has 142 households with a population of 678 which is the largest village in TORBA.

ADRA, an NGO in Vanuatu, along with Peace Corps Volunteer Eric Schreiner conducted a community survey in Vitimboso.

During the survey that was conducted, every toilet in the community was evaluated based on the set criteria by ADRA criteria giving them a quality rating. ADRA found that of the 105 total toilets in the community, 10 toilets are adequate, and 10 toilets need repairs varying from a repair of the slab, structure, or pipe. The survey also showed that 85 total 105 toilets in the community need to be completely replaced. Of these 85 toilets that need a full replacement a majority of these toilets are bush toilets. The remainder are VIP toilets that are weathered, damaged, and unsatisfactory. The local clinic has two toilets, the local school has eight toilets, and the remaining 95 toilets are shared among the 142 households in the community.

Vitimboso's Peace Corps volunteer Schreiner organized meetings with the new primary health care committee, the nurse, and the chief to put a plan to build new toilets in the community in Early December.The community decided to move through with an application for the USAID's small grants fund and were approved. The goal for the community is for every household and community space (Aid Post,nakamal, church, community event area) to have their own VIP(ventilation improved pit) toilet,constructed properly so that the toilet works functionally. The grant rewarded wasn't large enough to complete new toilets for the 142 households and the community spaces so the community went forth with building just 72 VIP toilets for 72 selected households in the community of Vitimboso. The leaders of the community grouped the community into five groups with each group leader looking after approximately 15 households. With the help of Peace Corps volunteer Schreiner and the communities carpenter each group leader was trained how to make a toilet using the VIP toilet manual written in Bislama that was made by Mr Schreiner.
---